Jared Grimes Tap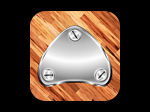 Jared Grimes, amazing tap teacher in New York, made an instructional DVD a few years back. My tap teacher at the Sydney Dance Company, Tracey Wilson, taught Jared's "Route 66" number and Carolyn Yates filmed and edited it. Here is the result:
Update 26th July 2011
If you are looking for more Tracey Wilson tapping, she and I have collaborated to create Tapsteps, an iPhone, iPad & iPod app to help people learn to tap.
Permalink - Tags: Misc