Google Adwords, Small Things amuse..
Written by
Tom Horn
on June 23, 2009, 12:59 am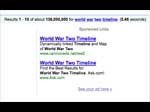 Thanks to Google and their Stimulus Offer I have seventy bucks of adwords to spend. I am not sure why, but I got a kick out of seeing my ad in sponsored search results. It is probably just a combination of 1am and codeine for back pain.
Permalink - Tags: Development,World War Two,Google