Vietnam : The Australian War - Paul Ham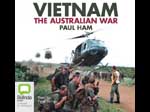 Vivid, chilling and desperately sad account of a war that seems to have been simplified and abstracted in our national memory. The book presents a fascinating and uniquely Australian perspective of the conflict, without neglecting the international context of war.
Once again, I find my pre-conceptions torn away.
Permalink - Comments - Tags: Books,Review
The Graveyard Book - Neil Gaiman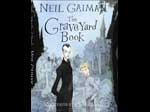 Everything you would expect from a Neil Gaiman novel. Quirky, unexpected, satisfying.
Permalink - Comments - Tags: Books,Review
Distraction, Procrastination and a fictional Island Fortress
Caught in a storm of distracting personal projects, I have been driven onto a lee shore mapping The Surgeon's Mate. A vague starting point, through a fictional Kraken Channel, onto a fictional sand bank and then a rendezvous at a fictional island fortress.
So, with few concrete reference points, I was left to my habit of obsessive guesswork to determine the course of the Ariel's chase of the Minnie, The Minnie's grounding and then the mock chase to Grimsholm.
After a number of alternative routes, painstakingly plotted and then discarded in disgust, I settled on a vague south easterly chase towards the fictional Grimsholm, on the Pomeranian shore west of Danzig. I used the following as my points of reference:
The rendezvous with the Minne occurs quite close to Carlscrona.
The Minne, carrying French officers for the fortress, runs south east. Presumably, she is heading directly towards Grimsholm
The sandbank needs to be close enough to the mainland to make the Frenchmen's escape by boat plausible.
Grimsholm itself must be somewhere near the shoreline, as the Frenchmen intended to reach shore and ride to the island.
With that particularly fiddly piece of mapping I am hoping that mapping the rest of the The Surgeon's Mate will follow more reliable and concrete locales.
Permalink - Comments - Tags: Patrick O'Brian
Eating our own fishfood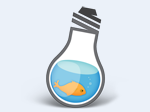 Goldfish delivers a framework for adding realtime functionality to web applications. In the interest of eating our own dog food I have whipped up a demo to stream multiple user comments into a blog entry.
I am outside the Goldfish team at Cognethos so I have very little inside knowledge on the framework and this demo took a morning to put together.
Permalink - Comments - Tags: Development,Goldfish
American Civil War Daily on the iPhone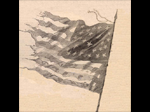 American Civil War Daily answers two fundamental questions:
What happened today during the American Civil War?
Where did it happen? Show me a map!
A lite version version is available free, which only supports today's date and shows 5 daily cards.
Flip through daily cards showing important events leading up to and during the deadliest conflict in American history.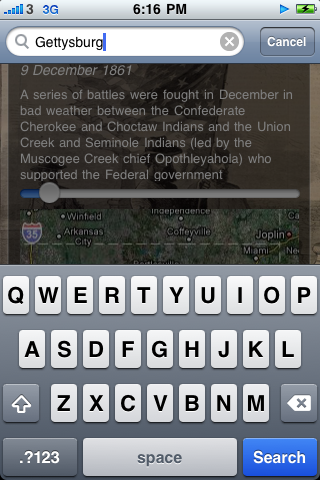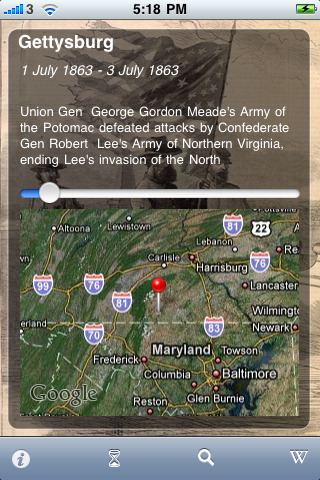 Each card shows the date, a succinct description and a zoomable map for the event. You can flip the card over to read the Wikipedia article describing the event.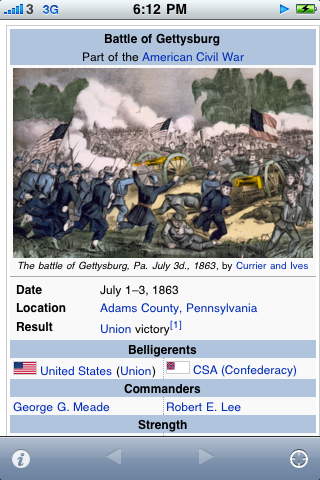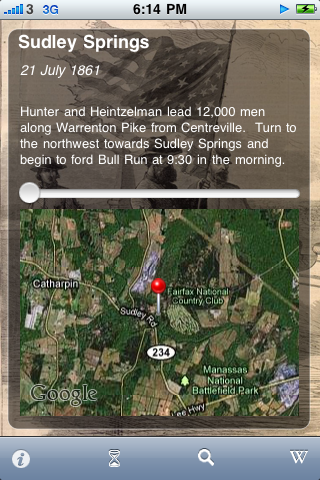 You can sort your deck of events using two mechanisms:
Sort by day and month for a

this day in history

view.
Select a start date and then sort by day, month and year for a true chronological sequence of events from that date onwards.
The data for American Civil War Daily comes from the American Civil War Timeline Project. This is a community contributed project to collect time and place data for the war. You can come to the site to browse the timeline or even log in and contribute new data.
The Timeline Project currently indexes over 400 hundred data points with new entries being added daily. If a significant event isn't in the database yet, it soon will be.
Permalink - Comments - Tags: Development,iPhone,American Civil War,App
[First Page] [Prev] Showing page 1 of 14 pages [Next] [Last Page]