Vietnam : The Australian War - Paul Ham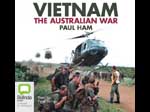 Vivid, chilling and desperately sad account of a war that seems to have been simplified and abstracted in our national memory. The book presents a fascinating and uniquely Australian perspective of the conflict, without neglecting the international context of war.
Once again, I find my pre-conceptions torn away.
Permalink - Tags: Books,Review